K5 series, as upgraded products of K3 series, close to market, provide diverse functions and higher performance, is a
kind of cost-effective micro integrated PLC (Programmable Logic Controller). Kinco-K5 CPU provides special I/O
functions (high-speed counter, PTO/PWM output), CANopen master, multiple RS485 ports, integrated analog input and
output channels and so on. Equiped with diverse extension modules, Kinco-K5 PLC is applicable to fully meet
requirements of small devices and process control.
Kinco-K5 combines with MT4000 HMI, CD/FD/JD servo driver and inverter to provider users with easy automation
solutions.
---
High-speed Counter
Kinco-K5 PLC provides two high-speed counters with 12 different operation modes, supports single phase frequency up to
60KHz and dual-phase (A/B phase) frequency up to 20KHz.
In different modes, each counter has its own inputs for clock, direction control, start and reset, and has a 32-bit current value and preset value.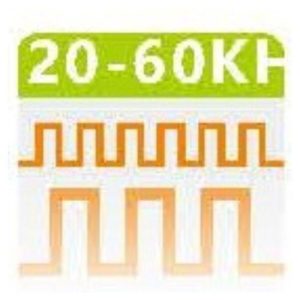 ---
High-speed pulse Output
Kinco-K5 CPU has two built-in pulse generators with frequency up to 200KHz, which support PTO (Pulse Train Output) or PWM (Pulse-Width Modulation).
KincoBuilder software provides absolute position, relative position, homing, jog and quick stop instructions and so on. Kinco-K5, combining with stepper or servo system, can realize position control conveniently.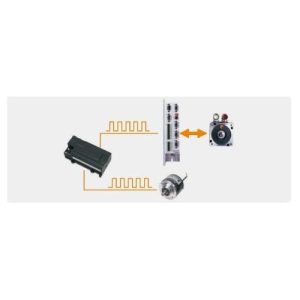 ---
CAN bus Communication Function
CPU module can provide CANopen master and free protocol function by connecting with CAN bus module K541. CANopen master function complies with Standard DS301. It supports baud rate up to 1Mbps, 72 CANopen slave stations, up to 256 TPDOs and 256 RPDOs. Connect
K5 with CD/FD/JD/ED series servo via CANopen bus can realize multi-axis motion control easily with simple wiring and high reliability.
---
Serial Communication Function
Kinco-K5 CPU provides 1 RS232 port and at most 2 RS485 ports, provides Modbus RTU master/slave and free protocol.
Via RS485 ports, Kinco-K5 can work as Modbus RTU slave to connect with HMI, configuration software or other master station devices, as well as work as Modbus RTU master to connect with PLC, inverter, instrument, actuator.
Each RS485 port support at most 32 devices to be interconnected into a network.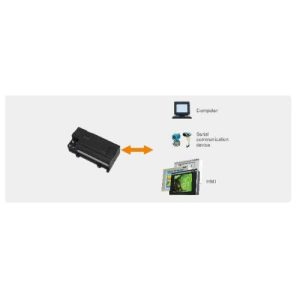 ---
Edge Interrupt Function
Kinco-K5 provides edge interrupt, communication port interrupt, time interrupt, high-speed counter interrupt and so on. Interrupt routine run in real time, not affected by PLC cycle.
DI points I0.0-I0.3 on CPU body support edge interrupt function. Kinco-K5 can capture rising/falling edge of DI signal quickly.
Time base of the two ways time interrupts is 0.1mS, Kinco-K5 can meet applications of precise timing.
---
Soft-PID Function
Kinco-K5 provides soft-PID control function by function block(default). User can call at most 4 PID function blocks in program.
The PID function block can take AI signal value as the PV value for PID, meanwhile, send PID output value directly to AO module for output.
---
Various module types
Kinco-K5 series PLCs comprise of CPU modules and expansion modules. Kinco-K5 provides about 20 kinds of models to meet various applications. CPU modules integrate with a certain number of I/O points on body. If
I/O points are not enough for application, user could connect up to 10 expansion modules with up to 200 points to meet most automation applications.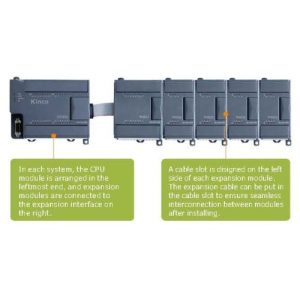 ---
Integrated DC24V Sensor Supply
CPU modules provides DC24V power supply (Terminal name: VO+, VO-), with maximum current 300mA or 500mA. It can supply DC24V for the connected text dispaly panel, HMI, as well as DI points.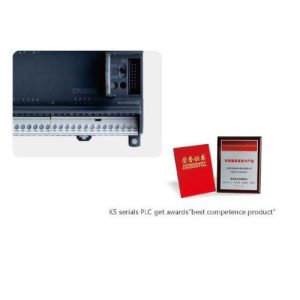 ---