Product Features:
K2 series PLC is cost-effective product (without expansion).
K2 is based on K5, but K2 has better performance and lower cost, K2 is product with high cost-performance rate.
Main Features:
· Micro USB for programming and power supplier.
· DIO technic for more applications.
· 4 high speed counters,3 high speed output.
· 2*RS485, max. baudrate 115.2kbps.
· Real time clock.
· Small size to save space.
---
■ K2 Features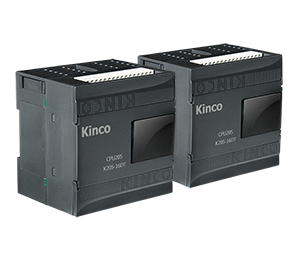 Transistor type of DIO (DI、DO multiplexing)
– Based on DIO technology, K2 PLC provides some DIO which can be used as digital input or digital output. It doesn't need to configure in software. It will adapt automatically according to the wirings.
USB programming
– K2 provides MicroUSB port for programming(USB2.0).
–  The MicroUSB port can be also used as power supply for K2 PLC. It is compatible with common MicroUSB cables.
High speed counter
– K2 provides 4 high speed counters. Every high speed counter can support maximum 32 PV and support 32″CV=PV" interrupts.
– High speed counter support multiple modes: single phase, double phase (up/down), CW/CCW, AB phase(1 multiplication and 4 multiplication).
– The maximum counting frequency of CPU205 is 50KHz.
– The maximum counting frequency of CPU204/209 is 200KHz.
High speed output
– K2 provides 3 high speed output(Q0.0,Q0.1 and Q0.4). It supports PTO and PWM.
– CPU205 maximum output frequency is 50KHz.CPU204/209 maximum output frequency is 200KHz.
– The software provides PLS(PWM or PTO), position controlling instructions, PRL0_F(following instructions).
Serial port communication
– K2 provides 2 RS485 communication ports, PORT1 and PORT2. It supports baudrate up to 115.2kbps.
– PORT1 can work as programming port, also supports Modbus RTU protocols(as a slave), free-protocol communication mode.
– PORT2 supports Modbus RTU (as a slave or master) and free-protocol communication mode.
---